PLG ACTIVE AVIS
Web-based software for notification in transport

The smart notification solution active avis
The digitization of all notification processes
Our web-based platform "active avis" is a service that automates the notification of deliveries and thus optimizes the entire process chain. In doing so, the digitized workflow uses various communication tools such as SMS, email, or voice assistants to improve the scheduling of local transportation trips for delivery and pickup. An individually designed notification process is mapped in the workflow, ranging from the integration of the shipment to the announcement for the recipient and the confirmation of the notification. All steps are clearly and transparently presented, including the customer's feedback and the link to the track & trace system. Communication with the TMS takes place via WEB services.
Fields of application:
Online for forwarding and home office employees
Industry and trade
Connection to shipment recipients via SMS and e-mail via feedback page
Versatile
For your success
Profile:
One platform for ALL notification processes
Different notification models possible
A TMS-independent, browser-based solution
A cross-operating system solution
(WIN, Android, OS)
Low hardware requirements (Windows Server, Internet Information Server)
License free database concept
(MySQL, PostgreSQL)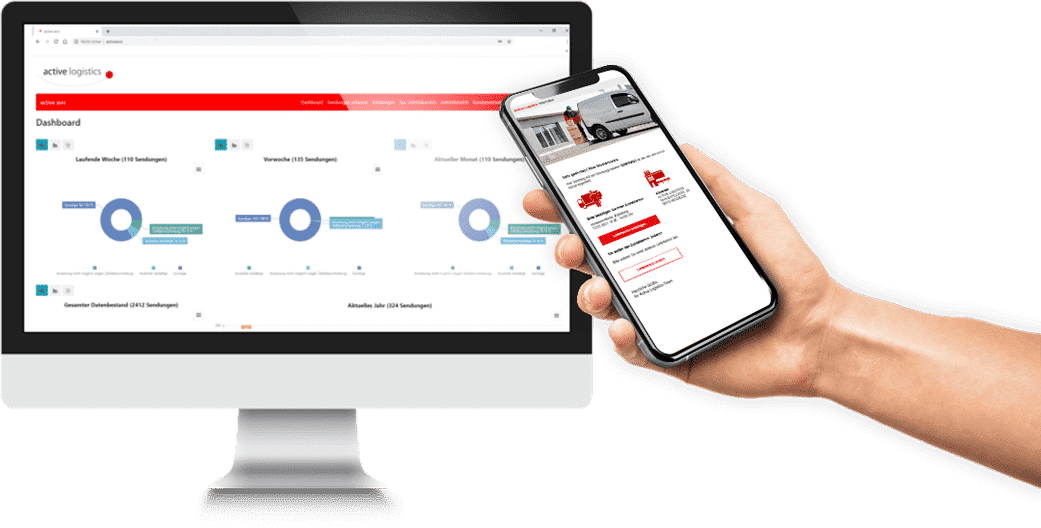 Features and benefits:
Web-enabled
Browser-based and TMS-independent
Data exchange via Bord512/STAT512 or web services with JSON files
Contact possibility via SMS or e-mail
Multi-level notification of the process flow to the final recipient
Alert system with info to TMS or e-mail to forwarding agent
Definition of different mail templates with flexible substitute variables
Flexible routing for notification window determination
Notification in the pickup/delivery area
Synchronizable customer data
Statistical evaluations (dashboard)
Automated process of notification by means of integrated workflow
Design of a multi-stage notification process
Intelligent Transformation – the future in the logistics industry
Regardless of the area of your logistics value chain: We offer you a comprehensive range of modules, products and services for success-optimized digitization. Our solutions include secure, efficient cloud computing options and state-of-the-art hardware and software tools that help you permanently optimize your logistics processes. We are your partner for the IT of the future in the logistics industry – because we stand for INTELLIGENT TRANSFORMATION.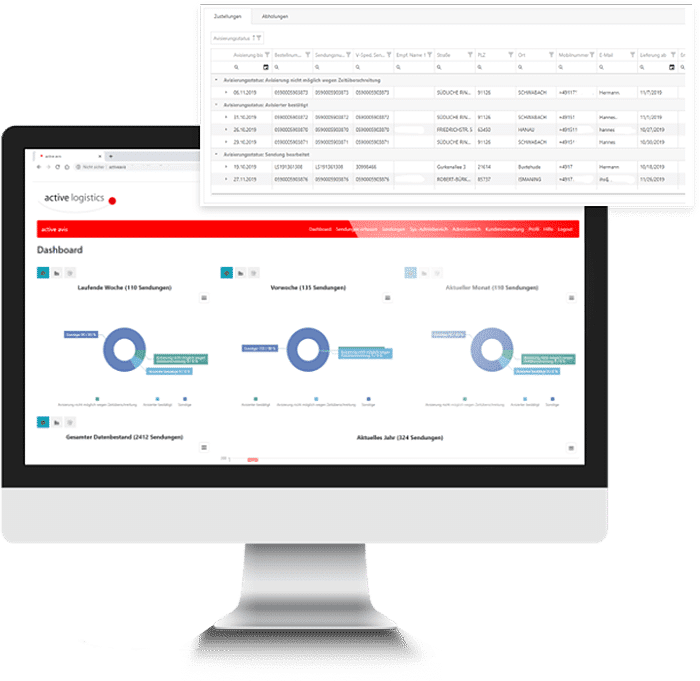 The tool for your notification
active avis
Group by notification status
One click and you have all your shipments grouped by their notification status. You can see directly which shipments need to be notified manually, for example if the recipient has not yet provided feedback.
All shipment information at a glance
All information about your shipment is available at all times. Various tabs such as Sender/Receiver, Shipment Position, Remarks, etc. give you access to all necessary shipment information. Also, by clicking on the recipient's phone number, you can contact them by phone.
Manual selection of the time window
Of course, you also have the option to enter the time window for delivery manually. To do this, use the "Manual notification" tab and enter the time window agreed with the customer here. This information is then transferred to the TMS. Following this, a confirmation email can be automatically sent to the recipient if required.
This is how easy it is to individualize your notification processes
All options are open to you here
Set notification time window by postal code or customer number
Using the holiday calendar and setting blocking days
Set capacity limits for time slots
Set number of terminal alternatives
Free design of mobile websites for the customer
Set up individual e-mail and SMS templates
Customize color design of the user interface incl. Logo
Creation of any number of clients / branches
Benefit from smart authorization control
Single sign-on via Active Directory possible
Notifications for the receiving partner
specify
Your personal contact
QUESTIONS, WISHES, SOUL OR PLANE?