PLG Industry Solutions
Logistics solutions for online trade

Warehouse Management Software pLG WMS E-Commerce
Warehouse logistics for e-commerce / online trade
Our warehouse management software pLG WMS E-Commerce is characterized by its advanced way of thinking and goes far beyond the simple management of goods receipts and inventory. Thanks to integrated AI algorithms, it does two steps in one and already thinks about retrieval when storing.
To do this, it analyzes the warehouse and item properties as well as all inventory movements to determine the optimal storage location for fast retrieval. In addition, our WMS regularly checks all ABC/XYZ key figures, the min/max/reportable stocks and the associated storage locations and sends the logistician appropriate suggestions for improvement.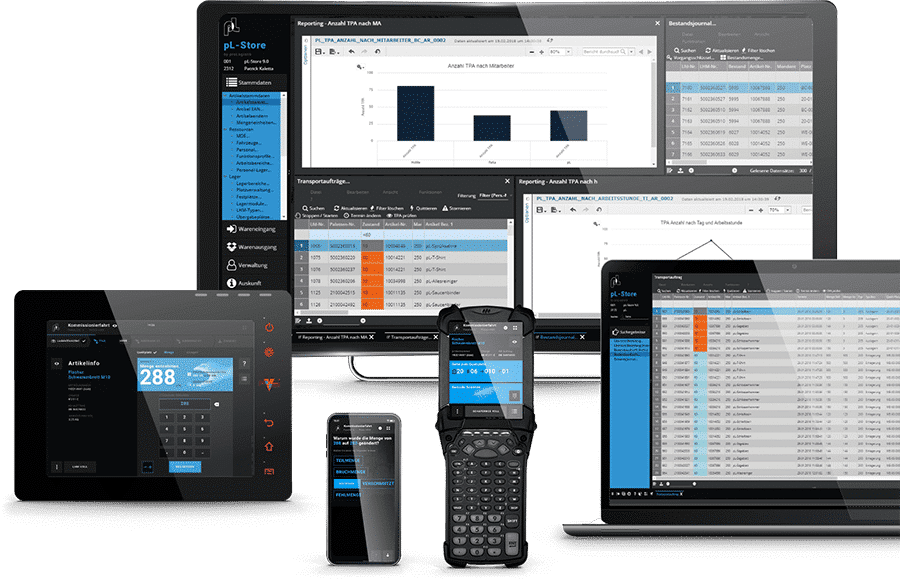 LVS highlights for e-commerce online trading:
Multiple storage locations
Different storage areas
3D model for optimal wayfinding
Support of various storage and retrieval devices
Support for transport aids
Barcode processing
Label generation
With the warehouse management software pLG WMS E-Commerce you can:
Especially for …
Customized modules
The perfect store connection
Our warehouse management software pLG WMS E-Commerce is able to cooperate with any existing store system. So if you want to keep your favorite store or stick to an existing store system – no problem. Our LVS pLG WMS E-Commerce can be easily networked with any store system. For example, we have developed special interfaces for the most common stores and platforms, which enable a connection without any problems.
Even if they use several store systems at the same time, our warehouse management software can serve them all equally. It is not even necessary to differentiate between B2B and B2C stores. Even within a store, it can identify customer types and automatically check the European VAT ID.
Purchasing
The perfect purchasing advisor: Based on order reservations, warehouse key figures and empirical values from the AI algorithms, our warehouse logistics software pLG WMS E-Commerce suggests a purchase quantity per item that you can either adopt or adjust.
At the same time, the system selects the optimal supplier who could take over the tours and who is the best option thanks to (scale) price, shipping costs, minimum order value and delivery times.
If necessary, the software can transmit the order directly to the supplier and monitor whether the promised delivery times are met.
Finance
pLG WMS e-commerce software helps you efficiently manage your various payment options – with the ability to manage data from both banks and payment providers. With the help of the integrated payment reconciliation, it can automatically assign the positions of your bank statements to the corresponding orders, which means that orders with prepayment automatically receive a pick release. You can easily assign other payments to the correct accounting accounts and export them directly to the accounting software as a pre-assigned document.
Picking
For picking, our warehouse management software pLG WMS E-Commerce uses the 3D model of the warehouses and thus knows all routes and space conditions. This allows orders to be split or combined into any number of picking rounds, and single-stage or multi-stage picking to be used as required.
The WMS can also easily manage order-related consignment goods or pre-picked partial deliveries, such as just-in-time deliveries. It is also able to ship items or entire orders directly from the manufacturer or wholesaler/distributor to the end customer on your behalf. (drop shipment).
If desired, partial transfer of picking orders to fulfillment service providers is also possible. Continuous inventory and inventory valuation eliminate the need for major interruptions to operations to check inventory.
Shipping
The pLG WMS e-commerce software offers a variety of integrated shipping service providers without the need for third-party carrier software. This means that each store can use an unlimited number of shipping options from an unlimited number of shipping providers. Of course, the initial shipping method and the shipping method of subsequent shipments can differ and change automatically. Of course, there is also the option of delivery by your own delivery fleet – thanks to the integrated route planning and fleet management systems, it is easy to control the delivery fleet efficiently.
Returns
Every logistics professional knows that the faster goods are shipped, the less likely customers are to return items. However, should a return still occur, customers can use the enclosed return label, among other things, that the warehouse management software pLG WMS E-Commerce prints out for each shipment.
Processing returns is also quick and easy thanks to LVS: the returns order can be opened via various options, the returned items are automatically displayed and can be taken over with a click or scan.
Job processing
The warehouse management software pLG WMS E-Commerce can automatically pick up the orders from the store without the need to recopy or import manual files. All orders are subjected to a plausibility check, for example, to detect unusually high order quantities or incorrect addresses. The plausibility check can be customized and extended as required and can also include credit checks.
With the appropriate setting, items can be reserved for specific jobs during import, based on factors such as status attainment, priority or time. This allows jobs to run automatically through the house without the need for manual intervention.
Tested and found to be good
Our Warehouse Management System
As a constant quality control, we have our pLG WMS comprehensively tested and subsequently validated by the Fraunhofer Institute for Material Flow and Logistics (IML) every year. As a result, we certify ourselves annually as a provider in the Online Warehouse Logistics Portal of the IML.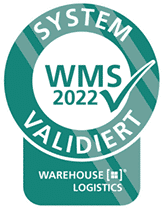 We offer you a holistic and personalized service
How else can we support you?
Consulting
With our logistics consulting, we support you in all logistical challenges, from the right strategy to optimal implementation.
Support
Whether for your software, your hardware or your System Center. Whether you have questions, problems or defects – we support you with our support.
Your personal contact persons
Questions, wishes or suggestions?
Dirk Bruhn
Business Development
Call us or write us a message. We look forward to seeing you.