PLG SOTI Connect
IoT software for logistics

SOTI ONE Platform
One platform connects everything
In today's world, there's no question that more and more employees need mobile devices and applications to do their jobs efficiently – with the volume and complexity of devices creating greater security and management challenges every day. This task will only be exacerbated with the expansion of the Internet of Things (IoT):
It is critical that the appropriate equipment is assigned to the right employees and that this equipment is operated efficiently.
At the same time, application development and deployment must be simplified and critical back-end systems must be integrated.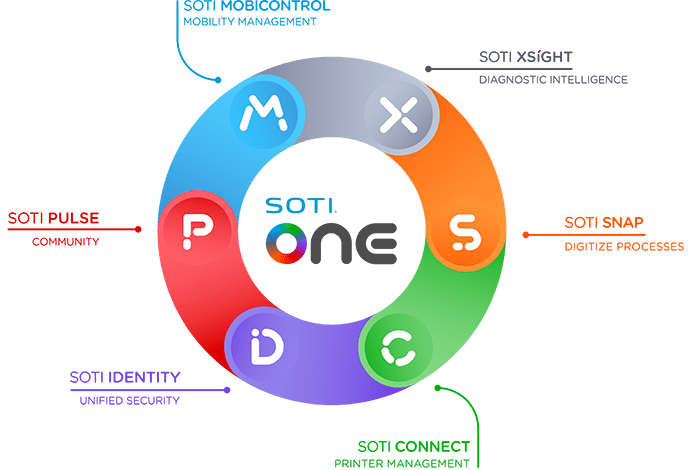 SOTI ONE Platform
How does SOTI support you?
You need an enterprise mobility solution that addresses all of your mission-critical mobility needs: app development, managing and securing devices, remotely troubleshooting issues with a wide range of mobile devices, collecting analytic data to gain insights into how your devices are performing, and managing your IoT infrastructure.
The SOTI ONE Platform gives you complete control and visibility over all your mobile devices: scanners, smartphones, tablets, rugged devices, industrial printers and IoT devices. It's an integrated enterprise mobility and IoT solution that connects all aspects of your mission-critical mobile strategy and takes it to the next level.
pLG is SOTI Platinum Partner
We help you integrate your IoT business operations easier, smarter and more reliably – by showing you how to connect and manage all your devices in one place.
What can SOTI do for your company?
SOTI ONE is an integrated suite of enterprise mobility solutions. It secures the workflow of your employees, develops your apps faster, and manages your mobile devices and IoT endpoints.

Minimize mobile downtime: SOTI XSight has the support and management tools you need to resolve mobile device issues faster, as well as analytical insights to help you make smarter data-driven decisions for your mission-critical mobile strategy.
Corporate mobility management: SOTI MobiControl facilitates mobility management. It simplifies the security, management and support of your mission-critical mobility and IoT deployment.

Rapid App Development: SOTI Snap is a cross-platform, rapid app development solution for enterprises. Organizations can use it to create the mobile apps they need faster, cheaper and on time.
The contents of SOTI ONE
Exactly according to your requirements
SOTI MOBICONTROL
Enterprise Mobility Management
Comprehensive OS Support Android, Windows, iOS, Linux, macOS, Link-OS Printer
Registration within minutes and immediate provision of the devices for use
Optimized for iOS in COBO environments
Android+ technology
Industry-leading support for rugged devices
Email, app and content management
SOTI CONNECT
Printer management for companies: Print securely, work reliably
Print in minutes and at lower cost
Reduce repair and maintenance costs
Detect potential problems before they occur
Protect printers and businesses
Do not estimate, but know how many printers you have
SOTI ASSIST
Diagnostic helpdesk solution
Diagnostic helpdesk solution designed specifically for mobile devices with integrated remote control, diagnostic and EMM tools
Quick troubleshooting with practical information on device deployment
Anytime and anywhere support with the
fastest remote control solution in the EMM industry
Comprehensive device support from over 170 manufacturers
Improved ticket management
Support for multi-OS environments
Email integration enables automated support ticket creation
Advanced audit logging features
Contact us
Questions, wishes or suggestions?