PLG Scanner
Back of the hand scanner / glove scanner
The advantages of the ProGlove back of hand scanner
The intelligent scanning glove
ProGlove scanning gloves are a unique solution for workers in the manufacturing and logistics industries, enabling them to work faster, safer and more ergonomically. The use of the gloves significantly increases the efficiency of work processes: each work step can be documented hands-free and the user receives feedback directly from the glove.

Thanks to this advanced technology, companies can improve their productivity and efficiency and achieve decisive competitive advantages.
33% fewer errors
With the help of the barcode scanner's ergonomically optimized trigger button, order pickers can initiate the scanning function with just the press of a thumb. In addition to the visual signals, there are acoustic and haptic feedbacks that indicate to the user that the item has been successfully scanned. This avoids the need for the picker to constantly check the display. This prevents errors and saves time.
The ideal partner
We support companies in diverse industries in optimizing their production and logistics processes. This also includes the fact that we are a ProGlove Gold Partner. Our experts can help you find the ideal barcode scanner glove for your business needs.
By the way: With us you also have the possibility to exchange a defective ProGlove device directly for a new one.
Would you like to know what return on investment you can expect when you choose a ProGlove barcode scanner? No problem: our ProGlove ROI calculator will provide you with the right figures in virtually no time at all.
Work effectively and quickly with ProGlove
To work efficiently with a barcode scanner, it is important to have the device right at hand. ProGlove has solved this problem by integrating the scanner into a glove. The trigger is located on the side between the thumb and index finger. The gloves are available in custom sizes and are suitable for any industry.

Thanks to Bluetooth Low Energy (BLE) technology, MARK solutions can be wirelessly connected to other devices such as tablets, smart watches or portable displays. The module also offers an impressive scanning range of up to 150 cm.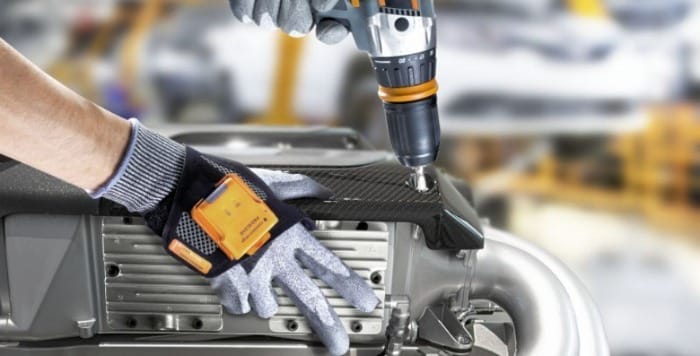 Other advantages:
1D and 2D barcode capture
Optimized for high volume scanning
Extended battery life of up to 10,000 scans
In addition, the ProGloves are the lightest, smallest and most stable barcode scanners in the world.
ProGlove MARK 3
Multi-range scan technology
The MARK 3 multi-range scanner optimizes your processes with every scan and is the latest, fastest, lightest and most versatile solution for optimizing hands-free scanning. Within the supply chain, it is used in some of the most demanding applications – from assembly lines to logistics centers.

Whether you need to scan a delivery bill or a label from a forklift, the MARK 3's fast scanning speed ensures a smooth and flexible workflow.
Optimized to scan anything from a distance of 10 cm to 600 cm in the shortest possible time
Visual, haptic and acoustic feedback
Easy aiming with high-precision scanning function
Strong battery performance of 12,000 scans
Extremely light with only 40 grams
Ready for 3000 scans after only 20 minutes of charging, full battery charge in less than 2 hours
ProGlove MARK 2
Standard Range
If you are looking for a barcode scanner for the assembly environment, the ProGlove MARK2 is exactly the right device for you – among other things, because it works perfectly even at scanning ranges of up to 80 cm.
Other advantages:
Connectivity through Bluetooth Low Energy or 868 MHz
Battery life: Approximately 10,000 scans
Visual, audible and haptic feedback option
Easier readability of DPM barcodes
Optimized for use in high frequency scanning environment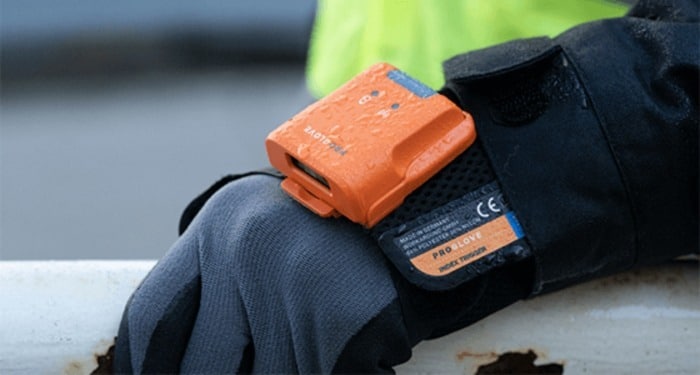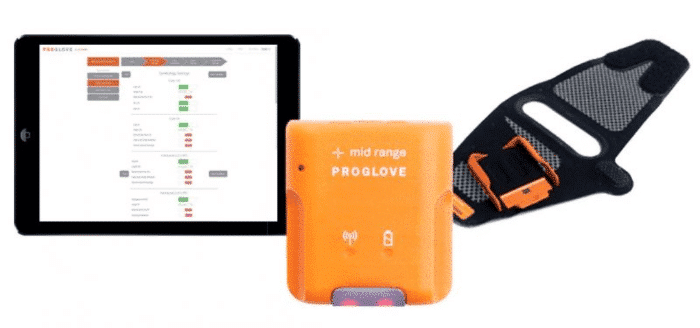 As with the MARK 2 Standard Range, the ProGlove MARK 2 Mid Range can be connected to other devices. However, the Mid Range model offers a longer scanning range of up to 150 cm.
Other advantages:
1D and 2D barcode capture
Optimized for high volume scanning
Extended battery life of up to 10,000 scans
MARK DISPLAY
The small wearable computer
Focused on the essentials – the MARK display delivers exactly the relevant information employees need to work efficiently and efficiently during picking, sorting and sequencing processes. The intuitive displays as well as the acoustic and haptic feedback guide employees through their work steps and save up to 6 seconds per scan. This helps to reduce the error rate by up to 33%.
Other advantages:
1.54″ large, high contrast and non-reflective e-ink display
Freely configurable within the layouts
Automatic scaling – up to 40 characters per line
customizable screen orientation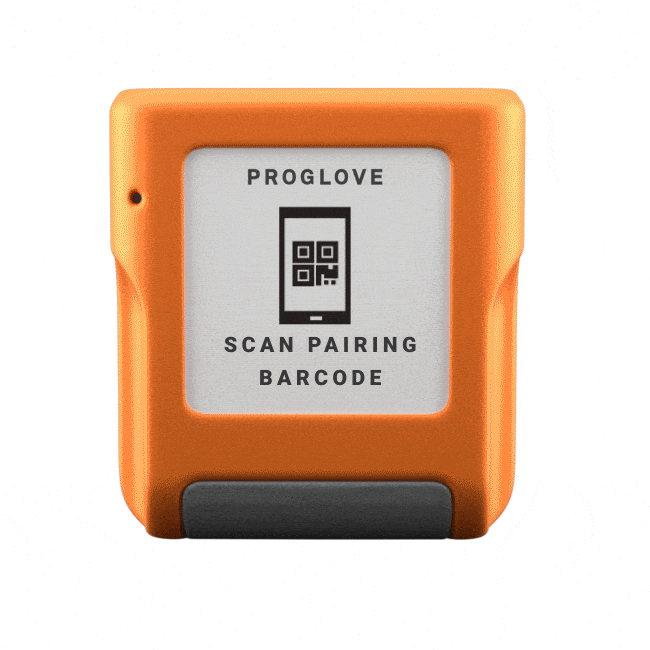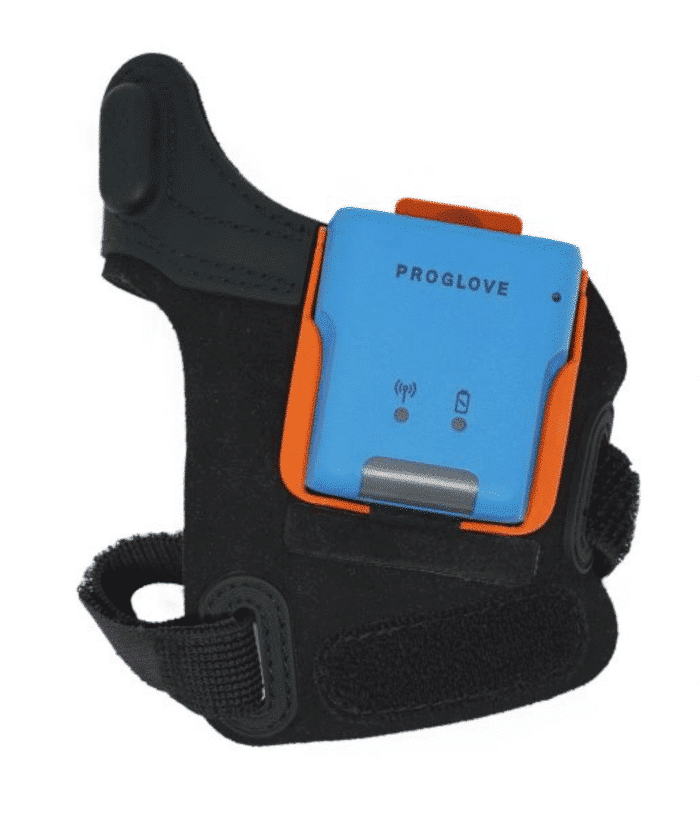 ProGlove LEO
For warehouse and e-commerce
If you are looking for a suitable entry-level model for your company, the ProGlove LEO is exactly the right device – because with it you are connected to your smartphone, your terminals and all other common smart devices in no time.
Other advantages:
Scalable Wearable Scanning at an Outstanding Price
Haptic, acoustic and visual feedback functions
Combine LEO with the Hand Strap for more ergonomics and immediate time savings – your smartest investment this year
Lanyard for MARK Display
Retractable coil for low frequency scanning environments
Pull-to-scan function – automatic release of the scan engine when pulled out
Highly durable aramid thread with a reach of almost 70 cm
Additional enable button
Two-way attachment: tiltable clip and lanyard
ProGlove charging station
The charging station can charge two MARK scanners simultaneously. It is powered via a USB power supply. The full charge cycle is less than two hours.
Charging station for two MARK scanners
Less than two hours charging time
ProGlove 10 charging station
Efficient charging of the entire MARK family. Up to 10 scanners loaded at the same time and in one place.
Compact
The power plug makes installation easy
In 2 hours the devices are charged
Vertical or horizontal mounting options
Contact us
Questions, wishes or suggestions?